ST. PAUL, Minn. (KMSP) -
Gov. Mark Dayton has ordered all K-12 public schools in Minnesota to be closed Monday, Jan. 6 due to extreme cold statewide.
"The safety of Minnesota's schoolchildren must be our first priority," Dayton said in a statement. "I have made this decision to protect all our children from the dangerously cold temperatures now forecasted for next Monday. I encourage Minnesotans of all ages to exercise caution in these extreme weather conditions."
See a list of private school closings on the Fox 9 School Closings page.
-14 AIR TEMP, -50 WIND CHILL

Dangerously cold temperatures are set to blast the state of Minnesota on Monday, with a high of -14 expected in Minneapolis and a wind chill as low as -50.

Here's a look at the big chill Sunday into Monday. Tap the image for a larger view.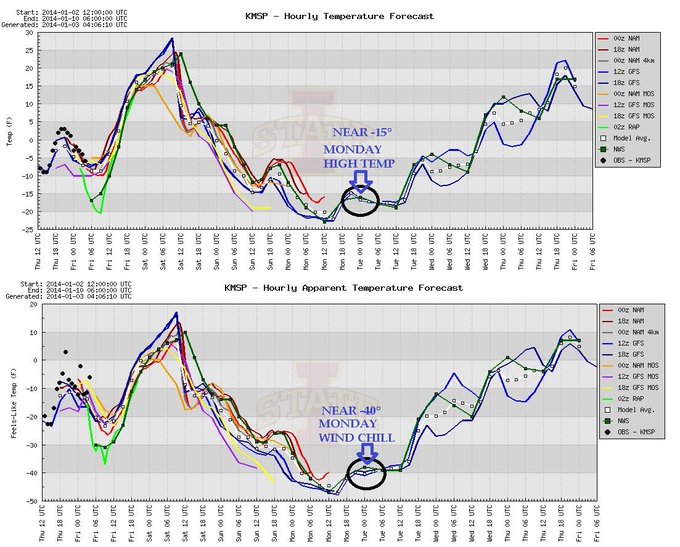 WHY?

The Friday decision to close schools gives school administrators, teachers and parents enough time to plan for Monday's closures. The Minnesota Department of Education will be in contact with school districts to notify affected families.
"Children's safety is always our top priority, and as a former superintendent, I know these are never easy calls," said Education Commissioner Brenda Cassellius. "I want to thank Governor Dayton for putting our kids' safety first, and am relieved parents won't have to worry about sending their children out in the dangerous cold on Monday, but can instead keep them home, safe and warm."

Cassellius said she has been getting a large number of questions about cancelling classes Tuesday as well, but that decision will likely be in the hands of individual districts.

THE LAW

State law gives the governor the authority to "authorize the commissioner of education to alter school schedules, curtail school activities, or order schools closed." You can read the full law at https://www.revisor.leg.state.mn.us/statutes/?id=12.21

GOV. CARLSON'S CLOSURES
Jan. 18, 1994: Gov. Arne Carlson ordered all Minnesota public schools closed due to the extreme cold, with air temperatures at -26.
Feb. 2, 1996: Gov. Carlson canceled schools for a second time due to extreme cold. The air temperature in the Twin Cities was -30 and the all-time state record for low temperature was set in Tower, Minn. where it was -60.
Jan. 16, 1997: Gov. Carlson closed schools for a third time due to cold temperatures. The wind chill was -32 that morning.
WHAT ABOUT WISCONSIN?
The decision to close or remain open will be made by local school districts in Wisconsin. Gov. Scott Walker on Friday said he was considering a recommendation for statewide closures, but his office later said it would be a local decision.

#STUPIDCOLD FACTS FROM IAN LEONARD
Most freezers are set near -20. With that said it will be "warmer" in a freezer than most of Minnesota.
At 8 a.m. on Jan. 2, there was a 115 degree difference between International Falls, Minn ( -38) and Key West, Fla. (77).

For more cold weather facts and information, follow FOX 9 Chief Meteorologist Ian Leonard on Twitter @ian_leonard and track the hashtag #stupidcold

COLD WEATHER PREP

- 5 tips to prepare for the extreme cold
- 10 ways to prevent frozen pipes