LITTLE CANADA, Minn. (KMSP) -
A pickup truck slid off an overpass and into a holding pond at Interstate 35E and Interstate 694 Tuesday morning, but the driver escaped with no serious injuries.

According to the Minnesota State Patrol, 54-year-old Anne Spiess of Maplewood was driving her 2010 Ford Ranger pickup northbound on the 35E flyover ramp to 694 when she lost control on the ice, went over the railing and plunged over 50 feet onto the frozen pond below.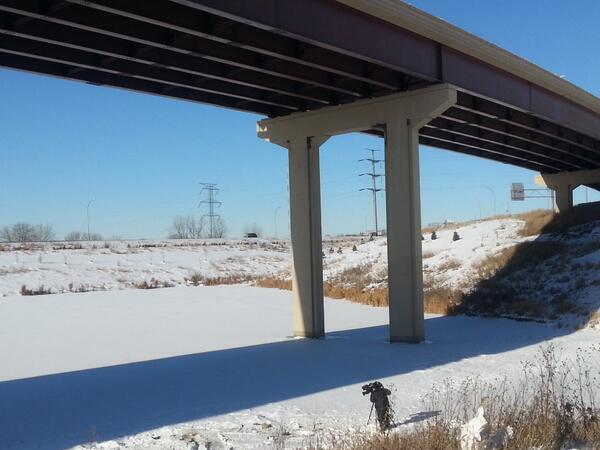 Twitter / PaulBlume_FOX9

Later on Tuesday, the ramp still had lots of plowed snow packed against the small shoulder, which may have served as a ramp to send the truck flying after Spiess lost control, however, investigators are still looking into the official cause of the crash.

"If snow is two-thirds higher on the barriers, we'll go out and remove snow," Minnesota Department of Transportation roadway supervisor Mark Fischbach said.

Spiess remained in fair condition at Regions Hospital on Wednesday.

"We noticed the majority of accidents today were with SUV-type vehicles with high centers of gravity. I think people get overconfident in driving those vehicles and may lead them into more trouble than you think," Fischbach said.

Ultimately, MnDOT officials say its best to take it slow in cold conditions – take your time and let patience take the lead.
MORNING CRASH TOTALS

The Minnesota State Patrol responded to 148 crashes Tuesday morning, with 16 involving injuries. None of the injuries were reported as serious and no fatal crashes were reported. Troopers also responded to 37 reports of spinouts.